Deeplink Medical
in oncology
Deeplink Medical has developed its offer around MIRIO platform, that adjusts to the different use cases and needs of actors involved in medical imaging in oncology, in clinic and in routine.
Our services rely on 3 different but complementary offers:
MIRIO, a platform for the follow-up of solid tumors evaluations and the therapeutic response of patients in oncology,

The Patient Pathway, allowing a link between hospital facilities and liberal medicine,

An Imaging CRO, for the follow-up of imaging data in oncological clinical trials


A Scientific Board supports the development of our solutions.
Our MIRIO platform has been rewarded by Unicancer Innovation Prize.
MIRIO, a workflow platform
that accompanies healthcare practitioners and sponsors in the follow-up of solid tumors evaluations
Collaborative workflow platform structuring imaging data and radiological evaluations for patients with solid tumors allowing structuration of data in real time (according to RECIST 1.1 and iRECIST) directly in investigation sites at the first creation of the data.
Fonctionnalities dedicated to each stakeholder :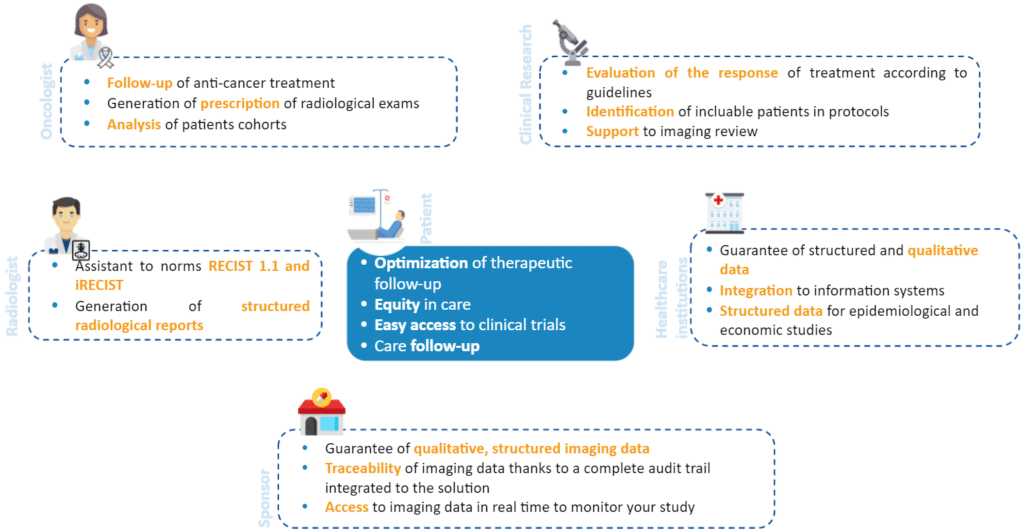 MIRIO platform's benefits :

In routine :
In Clinical Trials :
– Real-time evaluation of the therapeutic response of treatments according to international guidelines RECIST 1.1 and iRECIST 
– Precise and standardized follow-up of the the evolution of lesions and of the pathology
– Gain of time for all actors in the patient pathway and care in oncology
– Qualitative follow-up of patient 
– Follow-up and analysis of medical activity
– Remote monitoring of multicentric clinical trials and objective follow-up of the progression  and therapeutic response of the patient
– Securisation, standardisation and quality of imaging data for patients included in your trial at the first creation of data in investigation sites 
– Deployment of MIRIO in investigation sites assuring a viable production of imaging data (with no need of posterior retreatment)
– Securisation and follow-up of patients inclusions in clinical trials
MIRIO Patient Pathway
coordination of the patient pathway between the oncologist and radiologist in oncology
The MIRIO Patient Pathway aims to propose to patients a structured and standardized care pathway, thanks to oncologists and radiologists joining the MIRIO Patient Pathway. It allows healthcare professionals to access a unique structured platform for the follow-up of their patients but also to coordinate their medical collaboration.

Health professionnals, join MIRIO patient pathway :
Oncologists :
Radiologists :
– Facilitate the collaboration with radiologists by providing in a secured way the data of your patients: the running treatment, the treatment line, anterior imaging data for comparison…
– Obtain from radiologists structured tumoral evaluations according to RECIST 1.1 and iRECIST 
– Access in real-time the results of radiological exams of your patients with key images 
– Rapidly access the therapeutic history of your patients and facilitate the transmission of results to your patients
– Facilitate the inclusions of patients in clinical trials
– Access the prescription and the oncological files of your patients (anterior imaging data for comparison, structured radiological reports)
– Facilitate your radiological evaluations according to international standards RECIST 1.1 and iRECIST by being guided by MIRIO (Medical Device)
– Optimize the coordination and collaboration with oncologists 
– Access to centralized imaging review for clinical trials
Medical imaging services
couples to a digital platform to accelerate and secure the management of your oncological clinical trials
Medical imaging is key in oncological clinical trials, especially solid tumors. Through our Imaging CRO offer, we have chosen to propose a turnkey solution including radiological services from radiologists partners and a unique platform to secure and centralize your imaging data.
A panel of medical and operational services adapted to your needs in imaging :
Our Imaging CRO offer adresses 4 needs :
– Ensure an objective and structured follow-up of the therapeutic response of patients in clinical trials in real-time 
– Access qualitative, standardized imaging data according to RECIST 1.1 and iRECIST 
– Exploit imaging data, structured at their first production by avoiding the risk of error
– Access medical resources for radiological services
Access an expert team of radiologists in oncology :
Access a platform according to you needs :
– Definition and support of your imaging process in your clinical trials (definition of protocoles, imaging guidelines, imaging review charter…)
– DICOM quality control before centralized imaging review
– Centralized imaging review (simple, double, adjudication)
– Statistics analysis and clincal data management
– Workflow platform to support sponsors in the follow-up of solid tumor evaluations for patients, allowing sponsors to access in real-time structured imaging data for clinical trials (according to RECIST 1.1 and iRECIST)
Oncological and medical imaging expertise
– Oncological and medical imaging expertise: more than 700+ radiologists in our network using our platforms and working with us 100+ healthcare institutions have trusted us
– Clinical expertise: our team has worked on oncological clinical trials for different aspects: study design, protocols, guidelines, independent imaging review and understands the needs of sponsors
– Strict respect to health regulations and norms: compliant with international standards and norms (IHE, HL7) and ISO 27001 certification
– Security of our technology: secure access via nominative accounts, strong authentication, hosted at Microsoft Azure
– Agility and flexibility of our teams: we can adapt to your needs and you can count on a strong, agile and flexible team to address your needs 
– Interoperability with IT infrastructure (PACS, eCRF…) and an expert team working on interoperability
Discover our other
solutions