I-SOS-MAIN is an innovative concept for managing emergencies involving hands using tele-expertise.
With I-SOS-MAIN, any medical facility (hospital centre, private clinic, care home, private doctor's surgery) can request specialist advice from a hand and upper extremity surgeon (affiliated with an SOS-MAIN-certified structure).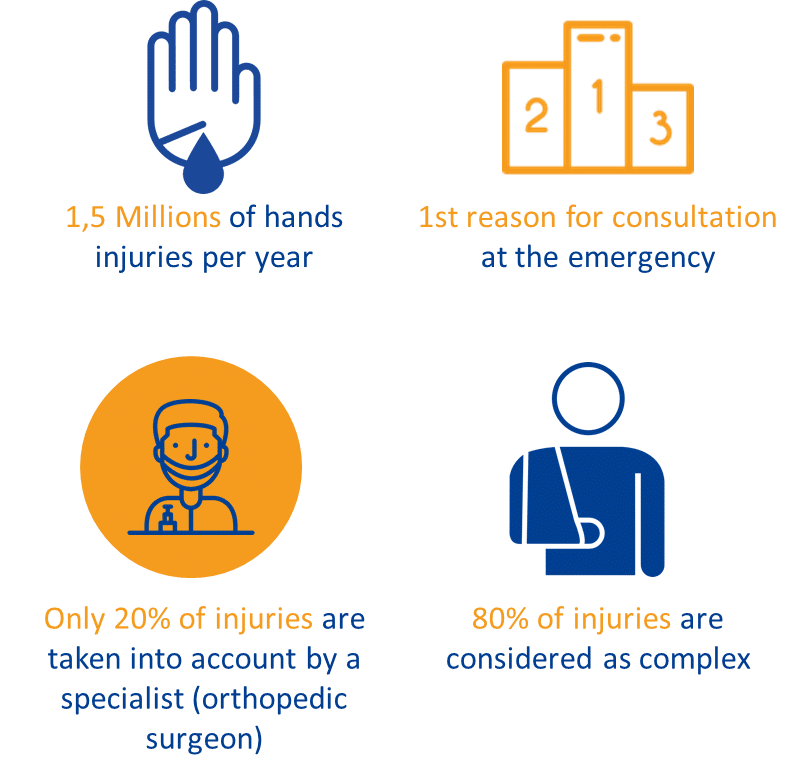 I-SOS-MAIN :
the benefits?
HUMAN
INNOVATION
Optimises the time dedicated to medical practices
Provides patients with the benefit of modern medicine and the advantage of safe, organized and rapid care to reduce the incidence of loss
Involves medical partners in the creation of the solution
Monitors communication between healthcare professionals
ORGANIZATIONAL
INNOVATION

Streamlining of emergency services
Efficient reorganization of the patient care system to overcome the difficulties of access to hyperspecialization (prematurely sending patient to a specialist) and medical 'deserts'
Synergies and cooperation between public and private institutions
ECONOMIC
INNOVATION
Rationalization of paramedical examinations
Improved productivity of technical platforms
Reduction in claims related to emergencies
Savings for the community through improved care
I-SOS-MAIN :
how does it work?
When a patient arrives in the emergency unit, the requesting emergency physician requests an opinion via tele-expertise.
The emergency physician enters the request for tele-expertise by filling in the administrative, clinical and medical data.
The emergency physician may supplement the request by inserting X-rays or photographs.
The orthopaedic surgeon receives requests categorized by degree of urgency and delivers an expert opinion.
With the help of a complete report, the requesting emergency physician receives the advice, informs the patient and organizes a transfer if necessary.